Pressemeddelelse fra YouGov Denmark
SAS has created many media headlines after the Swedish government announced that it would not inject any more cash into the Scandinavian carrier. Even though the Danish government has agreed to retain and potentially increase their shares, the problems are not over for SAS with a newly announced strike. In Denmark, Sweden, and Norway, SAS pilots have announced a strike concerning their wages starting June 29th - one week into the school holidays.
YouGov's BrandIndex Buzz score measures whether people have heard anything positive or negative about a brand. When news broke about the future of SAS and the strike, SAS's buzz score dipped in all of Scandinavia. From an average of 7.4 at the beginning of the year to -21.3 in June.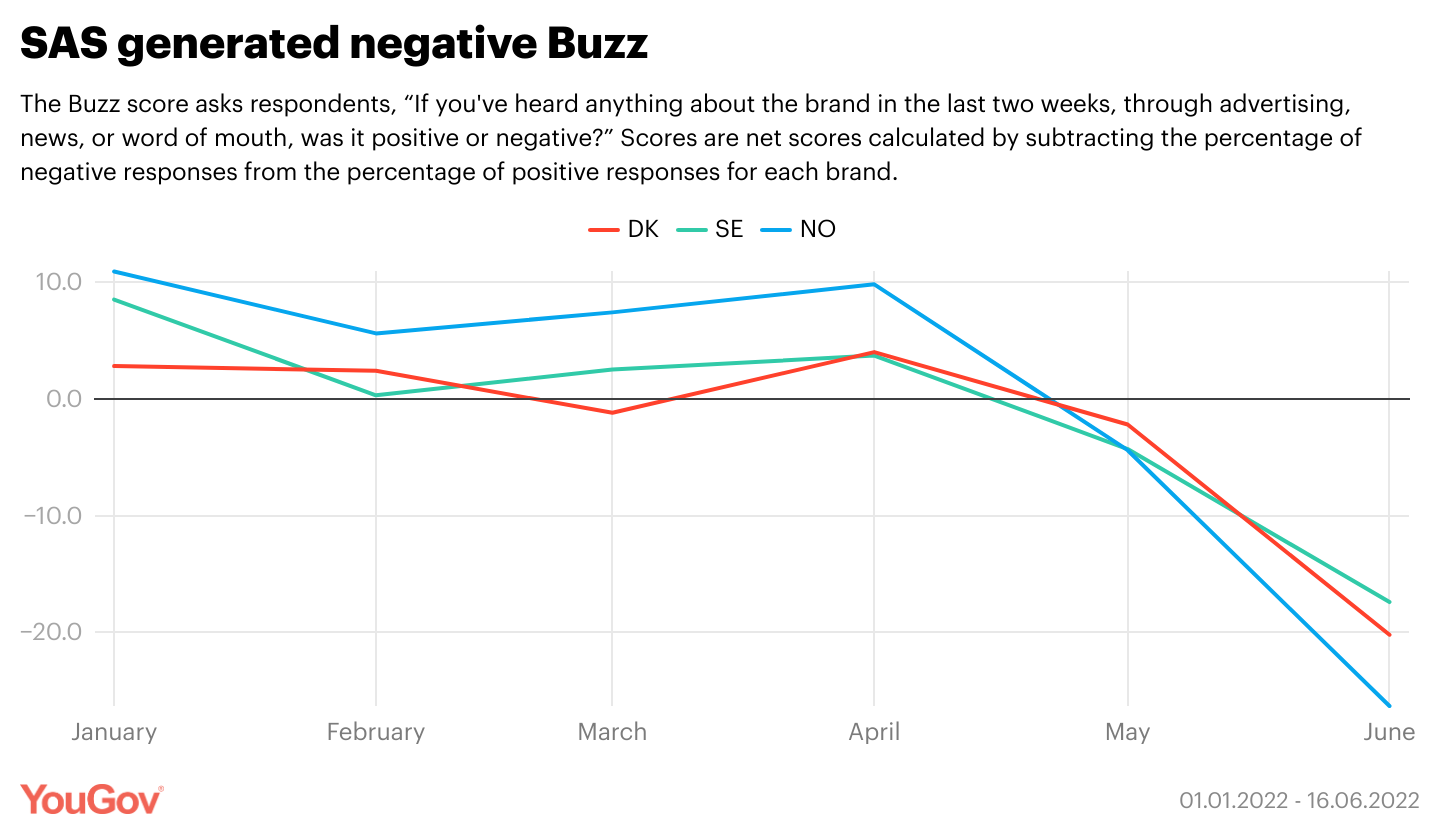 The negative publicity also impacts other facets of SAS' brand health.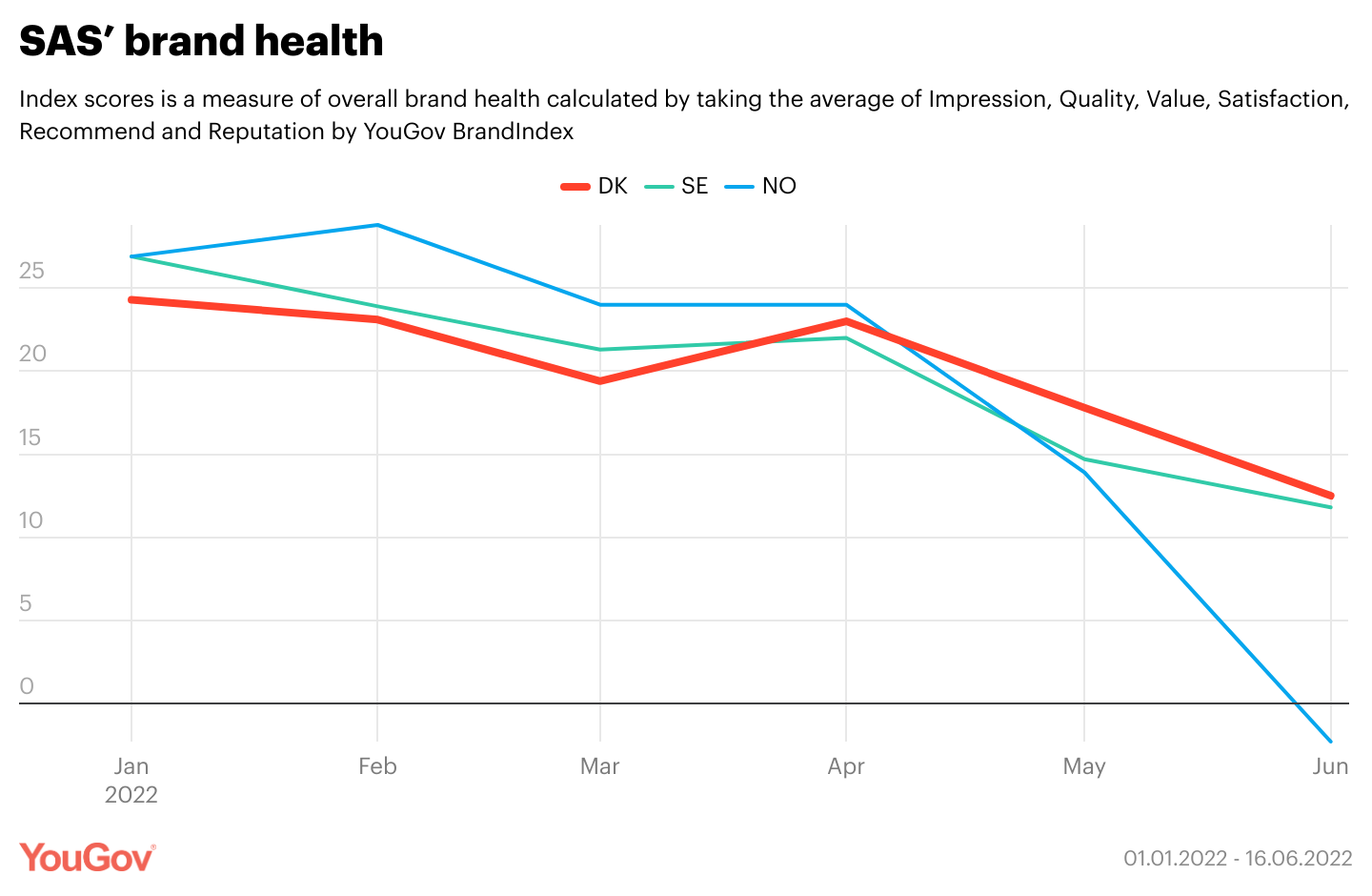 The index score, which measures overall brand health, also took a hit. SAS had an Index score of + 24.3 in Denmark, +26.9 in Sweden, and +26.9 in Norway at the beginning of the year but has now dropped more than 10 points to +12.5 in Denmark and +11.8 in Sweden in June. The drop is even more significant in Norway, where SAS had a negative index score of -2.3 in June.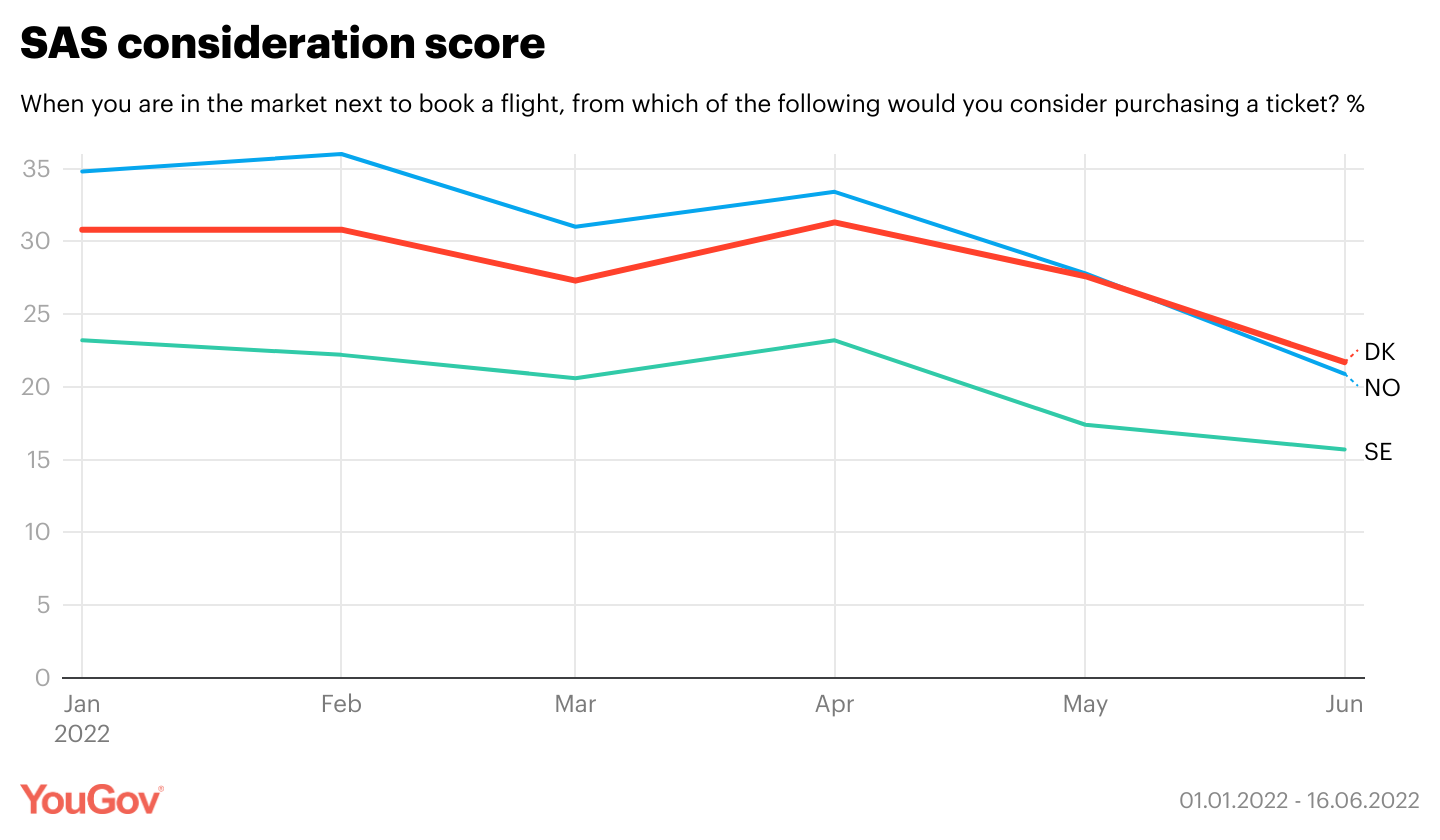 Consideration has also been negatively affected by the recent media publicity and uncertainty. The YouGov BrandIndex data shows that only 19.4% of Scandinavians now consider SAS when they are in the market to book a flight. In comparison, 29.6% of Scandinavians thought of SAS when they were in the market to book a flight at the beginning of the year.
Methodology
Each day consumers are asked about their views on brands across various markets, which allows YouGov to build a picture of how the general public perceives these brands by comparing Index scores - which is a measure of overall brand health calculated by taking the average of Impression, Quality, Value, Satisfaction, Recommend and Reputation by YouGov BrandIndex.
Impression - whether someone has a positive or negative impression of a brand
Quality - whether consumers think the brand represents good or poor quality
Value - whether consumers think the brand represents good or poor value for money
Satisfaction - whether someone is a satisfied or dissatisfied customer
Recommend - whether someone would recommend a brand to a friend or not
Reputation - whether someone is proud or embarrassed to work for a brand
The Buzz score asks respondents, "If you've heard anything about the brand in the last two weeks, through advertising, news, or word of mouth, was it positive or negative?" Scores are net scores calculated by subtracting the percentage of negative responses from the percentage of positive responses for each brand.
Data is from January 1, 2022, to June 16, 2022.
Kontakt:
Nordic Marketing Manager, PR og Marketing Tove Keldsen tlf.: +45 3142 6154 email: tove.keldsen@yougov.com
Matthew Smith
Head of Data Journalism @mattsmithetc
Læs hele pressemeddelelsen på Via Ritzau her: https://via.ritzau.dk/pressemeddelelse/scandinavians-put-travel-plans-on-hold-with-sas?releaseId=13654090
** Ovenstående pressemeddelelse er videreformidlet af Ritzau på vegne af tredjepart. Ritzau er derfor ikke ansvarlig for indholdet **